TX1320 M4
Page 1 of 1
Items 1 - 2 of 2
---
EXPERTS
Markus Blatt

Buy Primergy TX1320 M4 now at Serverhero

The FUJITSU Server PRIMERGY TX1320 M4 is an advanced, ultra-compact, silent mono-socket server, ideal for classic Small and Medium Enterprise needs, plus space constrained environments across Industry Verticals. The latest Intel® Xeon® E-2100 product family processors plus Core™ i3, Pentium® and Celeron® processors and up to 64 GB DDR4 main memory at 2,666 MT/s offer optimal cost-effective performance suitable for appropriately sized workloads, whether standard business ones (such as: File/Print, Email, ERP/CRM, Messaging, Centralized data storage) or Industry specific apps. The server features secure, robust storage and networking - it can meet most standard business specifications with up to eight 2.5-inch storage devices including up to four NVMe devices for ultra-fast, low-latency storage plus supports advanced RAID controllers, networking cards, data backup devices and TPM 2.0 capability. Four Gen3 PCIe slots make the server future ready while M.2 devices offer efficient boot options while Dual microSD support is available for VMware ESXi. Also, USB 3.1 Gen2 ports are now available for newer generation peripheral devices. High efficiency (94%) redundant power supplies enhance reliability and energy savings. The TX1320 M4 also features comprehensive server software management options including the iRMC S5 for efficient and simplified administration across the entire lifecycle.

Features
Ultra-compact server with advanced technology
Wide choice of the Intel® Xeon® E-2100 product family processors and affordable Core™ i3, Pentium® and Celeron® options. Up to 64 GB DDR4 ECC memory (4 DIMMs at 2,666 MT/s) is supported for high-speed, reliable performance. Note: Celeron® available only via special release request.
Versatile Storage and networking capability
8 x hot-plug 2.5-inch (SAS/SATA) devices (including up to 4x NVMe) plus RDX backup. Powerful SAS 3.0 RAID Controllers with up to 8 GB cache are available. Redundant (2x1GbE) LAN as standard, plus 25/10 Gb Ethernet controller options
Latest generation technologies for improved performance
Supports 2x M.2 modules: 1x SATA; 1x NVMe/SATA, plus Dual microSD modules, also offers new 3.1 Gen2 USB ports (Total of 2x 3.1 Gen2 plus 2x 3.1 Gen1, 4x 2.0, Internal 2x 3.1 Gen1 ports).
Benefits
Power packed performance across Small and Medium Enterprises, and most Industry verticals. The latest compute and memory technology offer high flexibility to handle appropriately sized, individual or virtualized standard business workloads (file/ print, web, email, messaging, ERP/CRM), or more demanding industry specific applications.
The server can handle both demanding low-latency storage applications or offer cost-effective storage with backup capability. With up to 8 devices, the server can handle most small office dataset or data consolidation requirements. Dual LAN support offers reliable data connectivity for standard requirements right out of the box, while advanced options support higher data-rate business specific needs e.g. virtualized environments or centralized data sharing over the network.
M.2 devices are designed for flexible boot requirements - option of cost-effective and reliable mirrored SATA modules or deploy high-speed NVMe, while Dual microSD modules offer mirrored support for VMware ESXi. New high data rate USB is suited for the latest generation peripheral devices.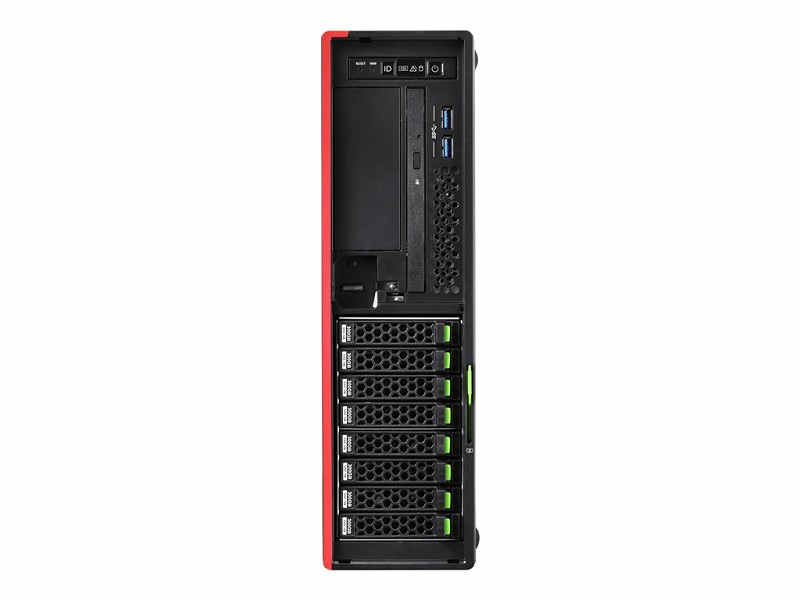 Serverhero

Expert-Support
If you have any questions about your configuration, about servers and storage or other systems at Serverhero, our expert team will be happy to help. Our team consists of experienced and ready IT professionals who can offer a solution for every problem. You can also request project conditions for larger systems and save up to 40% through our partnerships with leading manufacturers . You can easily reach us by e-mail, telephone or customer chat.

We are looking forward to talk to you.
Your Serverhero Team.