HPE ProLiant DL380 G10
Page 1 of 1
Items 1 - 23 of 23
---
HPE DL380 Gen10 Server

Like the predecessor of the HP ProLiant DL380 Gen9 rack server, the HPE DL380 G10 server offers outstanding security, performance and extensibility and it continues to build on these features. As a result, this is one of the world's most popular HP servers - which is one of the high-runners in our online Servershop - and has been enhanced, for example, with additional options to make optimum use of the chassis and has also been even further strengthened in terms of security. These are just a few of the many reasons why many of our satisfied customers buy this server.

It is suitable for any server environment and is used particularly for applications with high computing power and large data volumes. The HP ProLiant DL380 Gen10 Server is designed to minimize cost and complexity and can be ordered, configured and purchased online from our online Servershop. Due to its technical features, the HP Enterprise DL380 G10 offers extremely high performance for databases, complex computations and analysis workloads.

The HP ProLiant DL380 Gen10 operates reliably in both simple and business-critical applications and can be easily configured to meet specific needs. If you are still unsure whether the DL380 G10 is suitable for you and your company, you are welcome to contact one of our Heroes by phone or chat. In a personal conversation we can find together the server that fits your individual needs and configure it according to your wishes.

Buying a server doesn't have to be complicated. At Serverhero in the Online Servershop you get help in every step, whether configuring the server or ordering - we are always there for you.
About the HPE DL380 Gen10 Server
The reliable 2P 2U HPE ProLiant DL380 Gen10 is suitable for different workloads and environments and delivers World-Class performance with the right balance of expandability and scalability.

Designed for versatility and durability, the comprehensive warranty makes it ideal for multiple environments, from containers through cloud to big data. It is standardized in the most reliable computing platforms in the industry.

Front view - SFF-housing with optional Universal Media slot with optical and 2 NVME plus 16 NVMe as illustrated
1. Easy-to-removal access cover
2. Optional Universal Media Slot 2 USB 2.0 and Display Port Standard (8 SFF Slot or 6 SFF + 2NVMe or 8NVMe optional)
3. Optional optical drive. Requires Universal Media bay
4. Optional 2 SFF HDD, requires an optional Universal Media slot
5. Drive Bay 2 NVMe is displayed (8 SFF, 6SFF + 2NVMe or 8 NVMe PCIe SSD optional)
6. 8 SFF drive slot
7. Power On / Standby Button and System Power LED Button
8. Health LED
9. NIC status
10. UID button
11. iLO Front Service Port
12. USB 3.0
13. Serial-Label-Pull-Tag
14. Box 3
15. Box 2
16. Box 1
17. Optional Front-Display-Port (via Universal Media Schacht)
18. Optional USB 2.0-port (via Universal Media Schacht)


Front View - 8LFF enclosure with universal media bay and optional 2SFF and optical drive
1. UID-button
2. Health-LED
3. NIC-Status
4. Power On / Standby-button und System Power-LED-button
5. Front Display-Port

6. iLO front side Operating Port
7. Serial-Label-Pull-Tag
8. Optional optical drive is displayed (empty by default)
9. Optional 2 SFF drive bay, 2 NVMe as illustrated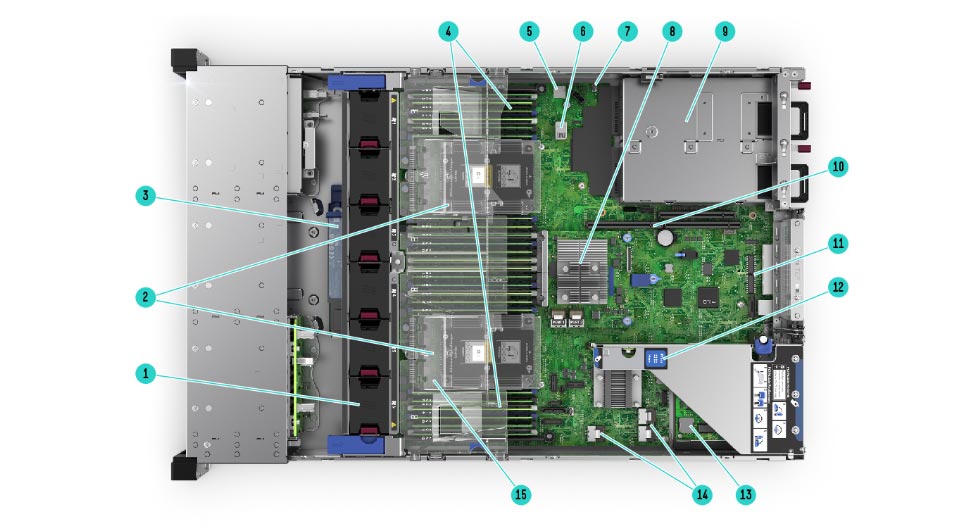 Inside view 8SFF package - with optional second CPU, FlexLOM, Smart Array
1. Fan cages with 6 standard fans demonstrated - Plug fans
     (high performance thermostat fan optional)
2. 2 processors, heat sink as indicated.
3. Optional HPE Smart Storage Battery
4. DDR4 DIMM slots is shown completely filled in 24 slots
     (12 pro Processor)
5. MicroSD-card-plug-in socket (Optional Dual Micro - SD-Option)
6. Internal USB 3.0-port
7. Chassis Intrusion Detection-port
8. Optional HPE Smart Array (P408i - one shown)

9. (Under) Hot Plug redundant HPE Flexible Slot-Power Supplies
10. Connection for second (optional) riser (requires second CPU)
11. Embedded 4x1Gbe NIC
12. Primary PCIe Riser, Standard (Optional Double Wide GPU riser))
13. Optional flexible LOM-slot
14. X4 SATA - ports (1,2 und 3)
15. Transparent air deflector plate


Rear view - Indicated with optional FlexLOM, rear drives and serial port
1. Primary riser. PCI - slots
(Slots 1 - 3 from top to bottom, riser supplied as standard, are not shown),
optional 2SFF- Rear Drives.
2. Secondary Riser. PCI - slots
(Slots 4 - 6 top down, are not shown, requires second riser card and second processor).
optional rear 2 SFF is displayed.
3. Optional serial Port
4. Tertiary riser (slots 7 - 8). Optional Rear 2 SFF HDD
(supported with 24 SFF or 12 LFF Frontend)
5. Power connection
6. Power connection LED
7. HPE Flexible Slot-Netzteilschacht 1(800W gezeigt)
8. Stromversorgung Stromanschluss
9. Netzteil Power-LED
10. HPE Flexible Slot-Power Supply Slot 2(800W gezeigt)
11. VGA-port
12. Embedded 4 x 1GbE Network adapter
13. Dedicated iLO management port
14. USB-ports 3.0 (2)
15. Device-ID-LED
16. Optional FlexibleLOM-Ports (Shown: 4 x 1GbE)