HPE ProLiant ML110 G10
Page 1 of 1
Items 1 - 6 of 6
---
EXPERTS
Alessandro Zotz

HPE ML110 Gen10 Server

One of the most popular tower server solutions currently offered by HP Enterprise is the HP ProLiant ML110 Gen10, which is why it is also available in our online shop for purchase and individual configuration. Due to its design, the HP ML110 Gen10 Tower Server can easily be installed in a rack cabinet, which makes it interesting not only because of its technical equipment but also because of its spatial features. The server stands out due to its excellent price-performance ratio and leads to an extremely high level of satisfaction among our customers after the purchase.

Due to its low price and the high expansion and adaptation possibilities the server is used in many different fields, which is also why our customers originate from many different segments. The HP ML110 Gen10 is used in many small and medium-sized companies, practices, and in administration. The features it provides in this regard help to accelerate processes, for example by optimizing computing power. Assure yourself of the quality and versatility of the HP ProLiant ML110 Gen10 and test the various configuration options in our online shop.

As usual, we will be glad to assist you with any questions, problems or individual wishes regarding the product. Simply contact one of our experts via chat or telephone and we will be happy to consult you at any time. Buying, ordering and configuring servers online has never been this easy - at Serverhero in the online server shop.
About the HPE ML110 Gen10 Server
The HPE ProLiant ML110 Gen10 offers a performance that meets the increasing demands of the SMB.

The server is a single-processor tower server that provides enterprise-class features such as redundancy, reliability and manageability. The 4.5U tower provides performance and extensibility for a wide range of applications and workloads for customers from SMB to enterprise server ROBO environments.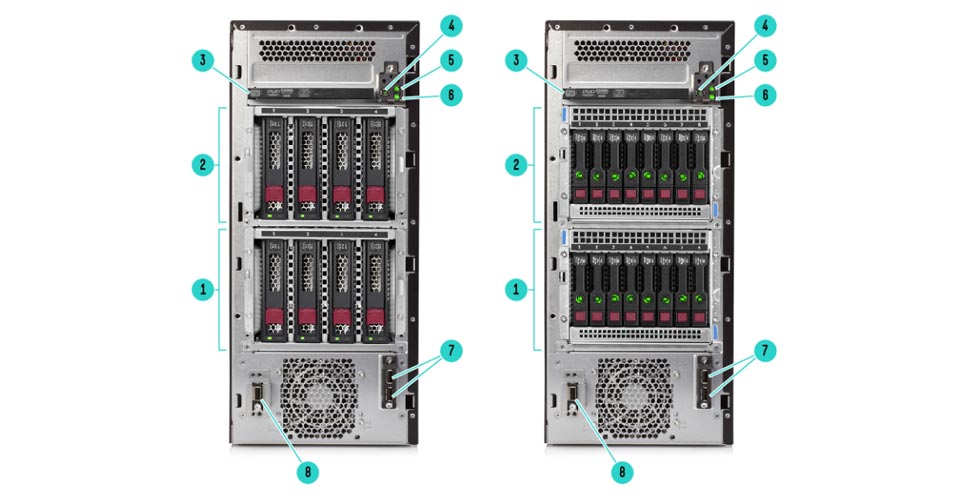 Front view (Details for 8LFF and 16SFF)
1. Drive cage 1
2. Drive cage 2 (optional)
3. Optical drive (optional)
4. Power-button / LED
5. System-LED
6. NIC-Status-LED
7. USB 3.0 (2) port
8. iLO-Service port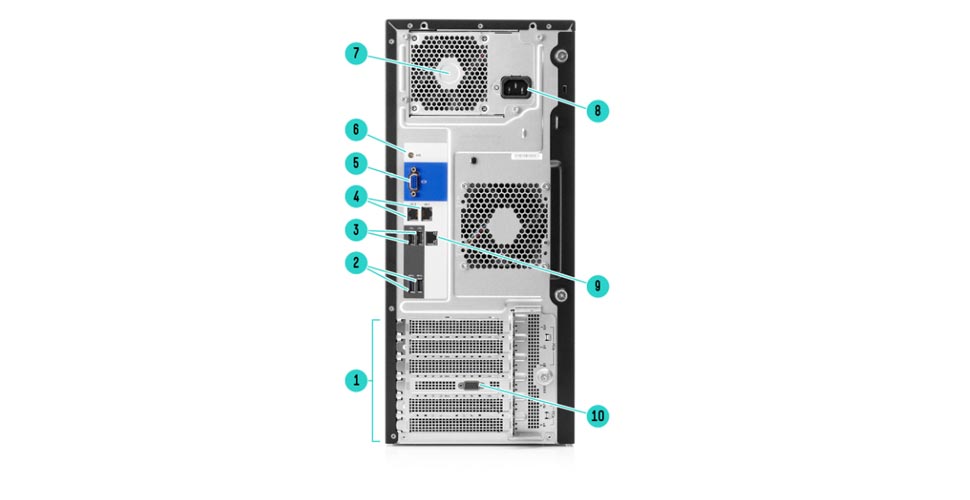 Rear-view
1. PCIe3.0 Slots (Slots 1-5)
2. USB 3.0 (2) ports
3. USB 2.0 (2) ports
4. Network RJ-45-Ports (2)
5. Video connection  
6. UID-button / LED
7. Power supply box
8. Power supply connection
9. iLO-Management-Port
10. Serial port (optional)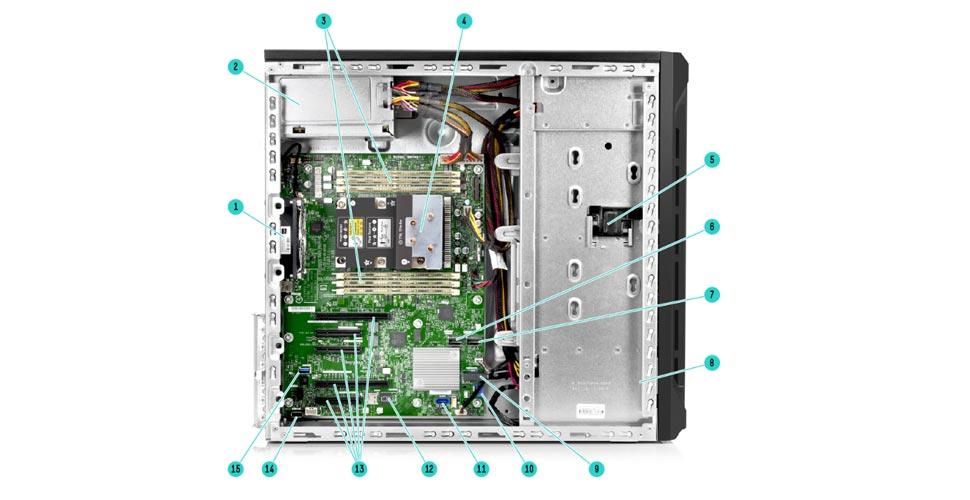 Internal view
1. System ventilation (92x32mm Standard)
2. Power supply
3. Six (6) DDR4 DIMM-slots
4. One (1) Processor and heat sink
5. Front panel locking
6. X4 SATA-port 2 (5-8)
7. X4 SATA-port 1 (1-4)
8. PCIe fan (92x32mm Standard)
9.Front USB 3.0-port
10.SATA-Port 9
11. SATA-port 10
12. MicroSD-slot
13. Five (5) PCIe 3.0 expansion slots
14. Internal USB 2.0-port
15. Internal USB 3.0-port