HPE ProLiant ML30 G10
Page 1 of 1
Items 1 - 5 of 5
---
EXPERTS
Markus Blatt

Buy a HPE ML30 Gen10 Server at Serverhero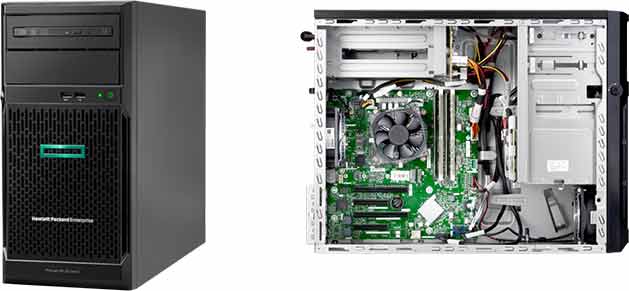 Do you know that a reliable enterprise-class server easily fits your budget? The HPE ProLiant ML30 Gen10 Server is a powerful yet cost-effective tower server designed for small offices, remote offices and branch offices to work onsite, as well as enterprise-class hybrid cloud solutions with performance, security, reliability and extensibility at a lower cost. Only a small change can give you the edge. Hewlett Packard Enterprise integrates security directly into the server with the HPE iLO Silicon Root of Trust and makes the HPE ProLiant ML30 Gen10 server one of the most secure industry standard servers in the world.

Option for redundant power and up to 4 LFF- or 8 SFF-Hot Plug Hard Drives provide availability and flexibility. Advanced expansion capabilities allow you to upgrade with SAS controllers, network cards or graphics cards as your business grows. You'll be surprised at how many benefits you get with the HPE ProLiant ML30 Gen10 Server.
Powerful and cost-effective servers for your daily workloads in the office
The HPE ProLiant ML30 Gen10 server, with the power of 6 cores in the Intel Xeon E processor and up to 64 GB ECC UDIMM (DDR4) with 2666 MT/s, offers more than enough power for small to medium-sized business applications.

Up to 61.44 TB of storage capacity, the HPE ProLiant ML30 Gen10 Server is the ideal data storage solution for your enterprise to handle the increasing amount of data. The M.2 slot on the board, supported by NVMe SSD, ensures the high speed of the boot drive.1

The option of a dedicated HPE iLO port allows you to reserve more bandwidth for network functions to achieve higher network performance.

The integrated SATA HPE Smart Array S100i controller is included as standard. The newly developed HPE Smart Array controllers give you the flexibility to choose the 12 Gbps controller that best fits your environment.

Equipped with Hewlett Packard Enterprise compliant professional 3D graphics cards, HPE ProLiant ML30 Gen10 servers can easily handle graphic workloads such as mid-size CAD models, basic digital content creation, and medical imaging.
Enterprise-class feature set to deliver enterprise growth with lower TCO
The HPE ProLiant ML30 Gen10 Server offers flexibility for different storage needs. With our choice of four Large Form Factor (LFF), non hot-plug, or eight Small Form Factor (SFF) hot-plug drive options, you'll find the right storage to fit your growing business.

The optional 500W HPE Flex Slot Platinum Hot-Plug power supply kit increases reliability and allows you to share reserves across multiple server platforms.

Error Correcting Code (ECC) storage protects organizations from data loss and unplanned system downtime.

The HPE ProLiant ML30 Gen10 Server provides a complete set of integrated HPE Integrated Lights Out (iLO 5) for Gen10 Server Management features, including HPE iLO with Agentless Management, Active Health System and Intelligent Provisioning.