QSAN Xcube DAS
Page 1 of 1
Items 1 - 1 of 1
---
EXPERTS
Markus Blatt

QSAN DAS (Direct Attached Storage)
Are you looking for a storage system that can expand your existing server and storage solutions - regardless of the manufacturer? Then we recommend our QSAN DAS (Direct Attached Storage) solutions. The DAS solutions provide a cost-effective solution to expand your current
server and storage solutions
without sacrificing quality. In fact, the QSAN DAS solutions are characterized by
high performance, reliability and security
- the complementary use of QSAN DAS product solutions offers you several advantages.
Have a look at our comprehensive product range to find out how QSAN DAS solutions can support you and your company. Can't find all the information you need or do you have specific questions? Not a problem. One of our
experienced experts
will be happy to consult you as well and quickly as possible to help you find the right solution. Our QSAN DAS solutions are suitable for any type of business - whether small office, practice, law firm, data center or large enterprise - the storage solutions can support you in many different ways.
Configurating, buying and ordering servers and storage online
- with fast personal consultation and a high-quality range of branded products - at Serverhero in our online server shop!
QSAN Xcube DAS Solutions
Extensive product range
The XD5300 series is available in a variety of form factors, including 24-bay 4U 3.5" LFF chassis (model XD5324), 16-bay 3U chassis (model XD5316), 12-bay 2U chassis (model XD5312) and 26-bay 2U 2.5" SFF chassis (model XD5326). This offers full customization flexibility depending on the user's budget and rack limitations.

QSAN's Model XD5326 (2.5", 2U, 26 bays) is the industry's first fully flash-based DAS storage system with low power consumption. It has two drive bays more than the usual 2U products with 24 bays on the market and thus offers approx. 8% more capacity. This can reduce costs per TB, minimize rack space requirements and help reduce the environmental footprint.

Dual Active Controller & Designed for High Availability
The XD5300 series has a fully modular, wireless architecture. In addition to the two active controllers, all other essential components in the device, such as power supply modules and fan modules, are redundant and hot-pluggable to ensure optimum fault tolerance.
If a component fails, the system immediately notifies the administrator; an alarm is issued and the central management software clearly indicates which component is at risk or has failed. The IT manager can then simply remove and replace the failed component during operation.

High performance and high throughput
The XD5300 solutions set new standards for direct-attached storage. The product series provides fast and comprehensive runtime configuration of the ten 12Gb/s SAS wide ports, enabling IT managers to fully utilize the 480Gb/s data bandwidth per system for a variety of applications.
The XD5300 series has been extensively tested and can deliver a throughput of 24,000 MB/s¹ for sequential reading and 20,000 MB/s¹ for sequential writing and over 4.2 million sequential IOPS throughout. This series is ideal for video editing, high-performance computing, cloud storage, streaming, broadcasting, virtualization and data centers.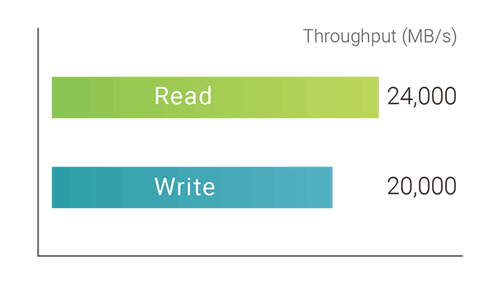 Diverse Topologies
The XD5300 series supports all 12Gb SAS topologies and combinations of all host and extension port configurations. XD5300 models can be used in all 12Gb/s SAS topologies: Cascaded, Reverse and Tree. The XD5300 series can be used universally with different connections to the host servers, as up to ten 12Gb/s SAS ports are available per system. For the user, this plays a critical role in planning a clearly defined resource allocation for optimal utilization of the performance and capacity of the XD5300 system.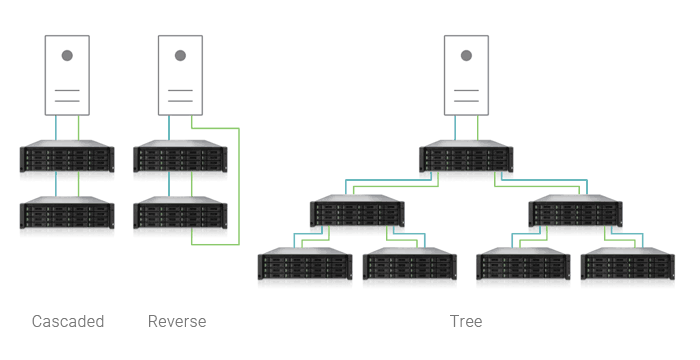 Zoning
You can select a specific group of storage locations and define a zone for them. Up to 5 zones per system are supported. Each zone can be assigned to at least one 12Gb/s SAS port. Zoning provides better security control, even in the direct-attached system scenario. You can use different zones for multiple host servers connected to the same DAS systems, yet have different access controls for different zones.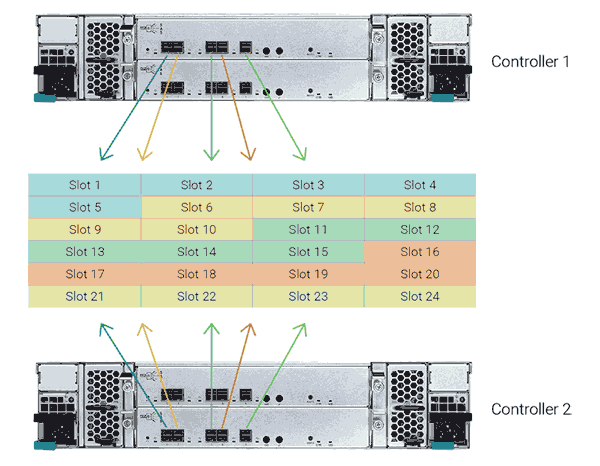 Run-time configuration
The host and extension ports of the XD5300 controller can be changed to inputs and outputs during runtime for various applications and environmental requirements. The setting takes effect immediately without the need for a restart. The configurations as shown below (5 inputs, 4 inputs / 1 output or 3 inputs / 2 outputs) are recommended for better performance and power utilization.

QSAN's central management software CubeView
CubeView central management software can monitor and manage system logs, disk status, chassis, zoning, firmware updates and history recording of system temperature, voltage and fan speed. The system also supports a command line and S.E.S. (SCSI Enclosure Service), giving IT managers full control of storage systems and dynamic configuration of powerful management.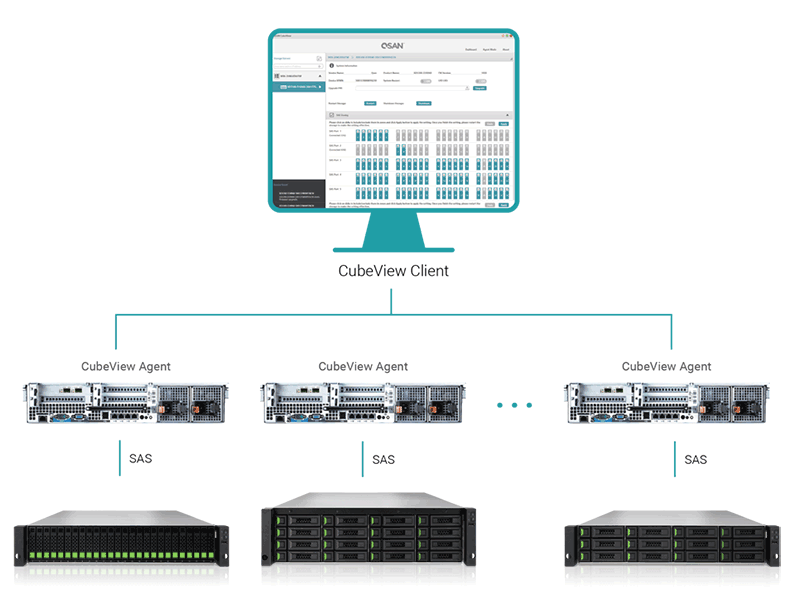 Interoperability & Extensive compatibility
QSAN's XCubeDAS XD5300 series is fully compatible with all major 12Gb/s SAS HBAs, RAID controller cards, servers and operating systems, including Windows Server Storage Spaces, SLES (SUSE Linux Enterprise Server), RHEL (Red Hat Enterprise Linux), CentOS (Community ENTerprise Operating System), Oracle Solaris, FreeBSD and Mac OS. The XD5300 series has also passed numerous tests with VMware vSAN, Hyper-V and Citrix as storage extensions for virtualization environments that fulfil all requirements. QSAN has also qualified the most common SAS hard drives and SSDs on the market. Our users can choose freely between the most advanced hard drives and SSD flash drives and use exactly those drives that best meet their requirements for an optimal price/performance ratio and thus significantly reduce the investment costs in the IT infrastructure.