Qsan Xcube SAN
Page 1 of 1
Items 1 - 4 of 4
---
EXPERTS
Markus Blatt

QSAN SAN (Storage Area Network).
Would you like a storage solution of the latest generation for your company? Then take a look at our
QSAN SAN (Server Attached Storage)
solutions in our
Servershop
. The SAN solutions offer an extremely high performance, uncomplicated operation, enormous security, scalability and high cost efficiency. In addition, there are some special features that QSAN San Storage offers, such as thin provisioning, SSD read/write cache and many more.
If you have any questions about the various features of QSAN SAN solutions, simply ask one of our
experts for an efficient and convenient response
and support. You are welcome to have a look at the variety of QSAN SAN solutions and the different models in our Servershop. With us you are guaranteed to find the right storage solution for your company's needs so that you can benefit in the
long term from one of our reliable storage solutions
that can support you now and in the future.
The QSAN San solutions are not only suitable for large companies and data centers, but are also suitable for supporting small offices, practices, small and medium-sized companies or institutes and universities profitably due to their flexibility. The QSAN SAN series is suitable for almost all SAN requirements. Can't find the right solution for you and your company right away? Use our chat or call us. We will be happy to assist you, help you determine your needs and
find the right QSAN SAN solution for you and your company.
Configure, buy and order servers and storage online
- with personal consultation and a comprehensive range of offers - at Serverhero in our online Servershop!
QSAN XCubeSAN Solutions

The XCubeSAN series is the latest generation of high-performance hybrid dual-active (expandable from single-active) SAN systems. It's simple, secure, scalable and affordable for businesses. The XCubeSAN Series brings enterprise features such as thin provisioning, SSD read and write cache, auto-tiering and snapshot to the SMBs. The XCubeSAN series is designed to be an ideal solution for mission-critical data center applications, high-performance computing, virtualization integration or media and entertainment environments.
The XCubeSAN product range also offers the possibility to conveniently mount LFF and SFF hard drives into the hard drive bays without additional hardware and to set them up and use them easily and quickly with QSAN's own SANOS operating system.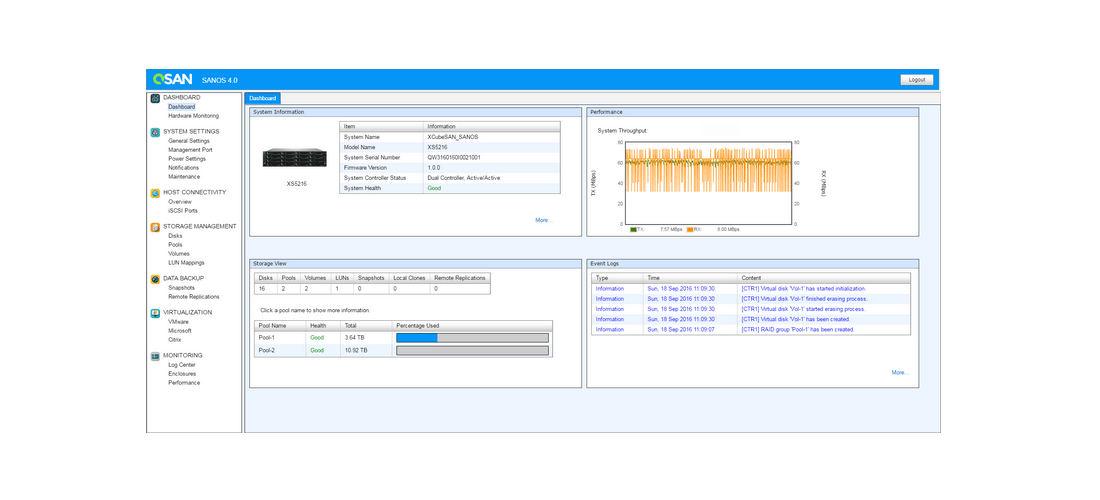 QSAN XCubeSAN systems offer support for cache to flash memory protection technology, multipathing, thin provisioning, auto-tiering and much more.

Further details can be found in the respective article descriptions.