Starwind Hardware
---
Buy and order StarWind HyperConverged Appliance online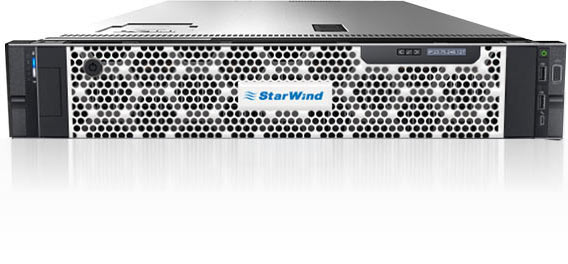 In search of a storage
virtualization hardware solution
for your business? Then have a look at the complete selection of all StarWind products in our
online Servershop
and find the right solution for you and the individual needs of your company..
StarWind is the pioneer in the field of
virtualization of storage and storage solutions
with its product solutions. That' s the reason why we offer all StarWind product solutions in our online Servershop, so that our customers benefit from our comprehensive solutions for virtualization processes.
In addition to the hardware StarWind HyperConverged Appliance, you can also order and purchase the following StarWind software solutions online:
Annual Support and Maintenance (ASM)
,
Cloud Virtual Tape Library (VTL)
,
Virtual Storage Area Network (vSAN)
,
Virtual Tape Library (VTL)
.
Take a moment and look at the subpages of the various software and hardware solutions in order to find the right StarWind solution for your
individual needs
. Do you have any questions regarding the StarWind software solutions in our online Servershop? Then simply contact one of our experienced experts to benefit from a
personal consultation
. Together we will find the right solution for your needs and your budget.
You can
order and buy hardware and software solutions of StarWind online -
including personal consultation - in Serverhero's online Servershop!
StarWind HCA is a ready-to-use hyper-convergent platform that combines mass servers, hard disks and Flash with a hypervisor of your choice (VMware vSphere, Microsoft Hyper-V) and the associated software into a single manageable layer. It is a true "plug-and-play" IT infrastructure module - flexible, easily scalable and cost-efficient.


For the most tight budget requirements with a 2-node cluster that is twice cheaper than a Tesla Model 3.
No overpayment for unnecessary or proprietary Hardware - HCA is 100% software-defined and requires only one node to make your applications highly accessible.
Limited IT-Team Resources
Zero configuration, migration and integration effort, since StarWind engineers do everything without additional costs.
No more wasted time on repairing defective systems - StarWind ProActive Support AI monitors all cluster components 24/7/365 to avoid pauses.
Constant uptime thanks to synchronous failover clustering between local and public cloud with StarWind Hybrid Cloud.
High fault tolerance rate: 2-node system can lose 1 node + 1 hard disk and continue to run.
HYBRID CLOUD
StarWind HCA offers companies consistent application availability and unbeatable data security thanks to Hybrid Cloud support. Organizations can now flexibly migrate virtualized workloads between their local environment and AWS, Azure, Google Cloud and Oracle Cloud without downtime.
HCA WITH A NODE?
With HCA, companies can achieve high availability for their ROBO and Edge sites with only one physical node on site. StarWind ensures application availability and data security with minimal hardware footprint by bundling HCA remote nodes with a public cloud, a main data center or even both.
Differentiation
In contrast to typical hyper-convergent solutions, StarWind HCA offers a space-saving environment with scalability from an installation with high availability of only 2 servers. Switches are not required, Flash is optional, in addition to 10- 100 GbE network (1GbE available on request). With less hardware to buy and maintain, StarWind HCA is easier to manage while reducing capital and operating costs. Typical hidden costs in the form of hardware or software requirements in alternative solutions are avoided. StarWind HyperConverged Appliance leverages StarWind VSAN's proven technologies to deliver enterprise-class performance with unmatched cost and simplicity.

In comparison to a traditional approach, in which computing and storage layers are separated, StarWind HCA uses a hyper-convergent infrastructure. Both layers are merged into a single appliance, simplifying IT operations and requiring less hardware for the same task. To further increase simplicity and efficiency, the entire device is covered by a single "support umbrella" from StarWind.

All components from several providers are covered by a single "support umbrella" with StarWind as "one throat to choke" in terms of support. StarWind HCA All-Flash models are available thanks to SMB and ROBO budgets thanks to the hardware discount that StarWind shares with customers.
Advantages 

EXCEPTIONAL SIMPLICITY
StarWind HyperConverged Appliance is a ready-to-use virtualization appliance consisting of first-class components. With a single support approach, it is extremely easy to manage and requires minimal IT operations.

COST-EFFICIENCY
StarWind HyperConverged Appliance is the most cost-effective and ready-to-use virtualization solution available on the current market. Due to its well thought-out and intelligent use of hardware, less hardware is required, which brings a "sum of all parts" cost advantages.

PERFORMANCE AND FEATURES
StarWind HCA combines the best hardware and software from proven manufacturers. It provides enterprise-class performance without complexity, risk or high cost. Since HCA is truly software-defined, HCA gets new features and performance enhancements through simple, uninterrupted software updates..
Features

SCALE-UP AND SCALE-OUT
StarWind HyperConverged Appliance scales to business requirements and enables both scale-out and scale-up architectures. Deployed HCA nodes or individual flash and hard drives can be added to handle the growing workload without overkill over-provisioning and over-expend.

UNIFIED STORAGE (MULTIPROTOCOL)
StarWind HCA is very versatile thanks to the multiprotocol software StarWind Virtual SAN. It uses industry-standard protocols that allow users to create virtually any architecture. StarWind HCA supported: SMB3, including SMB Direct and SMB Multichannel, NFS and iSCSI, VVols, NVMf and iSER.

STARWIND VVOLS
Integrating VMware VVols-support into StarWind products makes vSphere storage management highly efficient, simple and automated. With StarWind VVols, VMs can deploy concerted storage policies based on predefined storage configurations with the required performance and failover characteristics.

FAULT TOLERANCE AND HIGH AVAILABILITY
StarWind HyperConverged Appliance achieves fault tolerance and high availability with a minimal configuration with two nodes. It uses StarWind Virtual SAN, MS S2D or VMware vSAN to "mirror" storage and caches between nodes.

HYPERCONVERGED
StarWind HCA uses a hyper-convergent architecture and combines computing and storage resources into a scalable layer. It is easy to manage and extremely cost-effective by reducing all virtualization spending, including energy consumption.

CONVERGED ("COMPUTE AND STORAGE SEPARATED")
StarWind HyperConverged Appliance is obviously hyperconvergent. However, it can be integrated into an existing "compute and storage separated" architecture that provides storage outside the appliance. It uses industry standard uplink protocols: SMB3, NFS, iSCSI, NVMe over Fabrics, iSER and SMB Direct.

SERVER-SIDE CACHE
StarWind HCA uses multi-tier RAM and flash caching for exceptional performance and reduces I/O latency to an absolute minimum. With StarWind VSAN it achieves high performance with conventional SATA SSD, RAM and MLC Flash. Cache is distributed between nodes, providing a fast and reliable regression policy without using expensive proprietary hardware.

HARDWARE AGNOSTIC AND COMMODITY HARDWARE
StarWind HyperConverged Appliance uses standard commercial hardware for unparalleled cost efficiency. By eliminating the need for any proprietary hardware, end-to-end solutions can be developed at a much lower cost.

ASYNCHRONOUS REPLICATION
StarWind HyperConverged Appliance is pre-integrated with an industry-leading backup solution - Veeam Backup and Replication. It ensures the security of business-critical data and minimizes the risk of data corruption, even in the event of a disaster, without compromising performance and data integrity. Optional public cloud integration for disaster recovery can be provided.

SNAPSHOTS AND AUTOMATED STORAGE-TIERING
StarWind HCA uses StarWind VSAN inter-node tiering technology to increase performance and eliminate the need for expensive flash memory. It can transfer rarely used "cold" data from expensive primary storage to a low-cost secondary layer or public cloud.

VIRTUAL TAPE LIBRARY (VTL)
Virtual Tape Library (VTL) is an optional feature that eliminates the need for physical tape by storing all data on low-cost, fast and powerful drives. In StarWind HCA it is available as part of the StarWind VSAN functionality in a pure software version.

STARWIND LOG-STRUCTURED FILE SYSTEM (LSFS)
StarWind HyperConverged Appliance uses the StarWind VSAN log structuring feature to handle the virtualization load. It combats problems that lead to performance losses, such as " I / O-blenders " -scenarios. Logarithmic structuring means that the minimalist resources are sufficient for company routines in addition to everyday tasks.
STARWIND SWORDFISH PROVIDER
StarWind Swordfish Plugin allows you to easily manage, assign and scale infrastructures based on StarWind Virtual SAN and setups with StarWind VSAN as part of a larger storage infrastructure. The Swordfish API is part of the VSAN installation, making StarWind deployment easy and eliminating the need for additional software to manage the infrastructure..

STARWIND ISER
StarWind iSER completely eliminates the problem of network bottlenecks by providing higher bandwidth for block storage transfers. It also ensures the highest performance in the cluster systems by avoiding latency problems. With StarWind iSER, VM migration, data and VM replication become faster and easier.

STARWIND VIRTUAL SAN HYBRID CLOUD
StarWind Virtual SAN extends existing workloads to Azure's public cloud and transforms the existing infrastructure into a hybrid cloud. StarWind distributes highly available shared storage between the clouds and offers business continuity and disaster recovery for optimal RTPO.

STARWIND PROACTIVE SUPPORT
StarWind ProActive Support offers your company an unprecedented level of service availability and data security by proactively preventing errors instead of dealing with consequences. In the event of a problem, the StarWind technician will receive a warning and contact you to resolve the problem. This saves you valuable time and effort.

LOCATION OF DATA
The " Data Locality " concept effectively maximizes the performance of the IT infrastructure by keeping computing and storage resources for each virtual machine on its physical node. This allows local processing of most E / A, eliminating the problem of slow data transfer through connection structures and providing lower latency.

STARWIND WEB-BASED MANAGEMENT
StarWind Web-based Management allows system administrators to access and manage their StarWind infrastructure from any remote location via the HTML5 web console. This functionality provides full control over memory operations from a PC or Android, iOS or Windows mobile device.

GRID ARCHITECTURE
StarWind Web-based Management allows system administrators to access and manage their StarWind infrastructure from any remote location via the HTML5 web console. This functionality provides full control over memory operations from a PC or Android, iOS or Windows mobile device.

DEDUPLICATION AND COMPRESSION
StarWind HyperConverged Appliance includes storage space reduction technologies for increased performance and capacity utilization. Deduplication and compression reduce the actual amount of data to transfer, write, read or process, eliminating the unnecessary workload of HDD, Flash and interconnect.

SMB3-SUPPORT
SMB3, an advanced version of the Server Message Block (SMB) protocol, provides file-based access to application data. The StarWind implementation of SMB3 is designed to maximize hardware utilization efficiency. It lowers CAPEX and simplifies the provision of scale-out file servers.

NFS-SUPPORT
Network File System (NFS) is a distributed system protocol that allows users remote access to data over a shared network when stored locally. The StarWind implementation of NFS eliminates dedicated shared storage, resulting in significantly lower CAPEX and OPEX. In addition, the storage layer and the calculation layer are merged so that the cluster is only compatible with two nodes.

SMI-S-SUPPORT
SMI-S (Storage Management Initiative Specification) provides a simple and consistent way to orchestrate the entire storage infrastructure. The StarWind SMI-S provider offers system and storage administrators the only pane of glass management via SCVMM and OpenStack. Thanks to SMI-S support, most operations can be performed automatically from the console.
Features
With StarWind HCA there is a model series for every workload and performance requirement.
ALL FLASH
HCA All Flash offers powerful computing and high-performance memories that offer uncompromising performance for IOPS-hungry applications.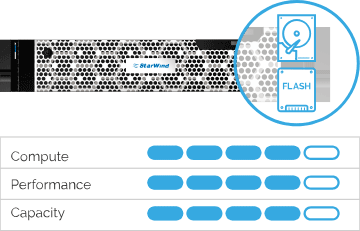 HYBRID
HCA Hybrid offers a balanced ratio of computing power and capacity for your applications. Tiered storage effectively addresses the capacity and performance requirements of your applications.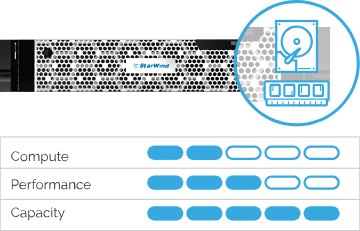 DISK
HCA Disk is designed for applications with moderate computing and storage requirements. It can also be added to the existing cluster as a capacity or DR node.